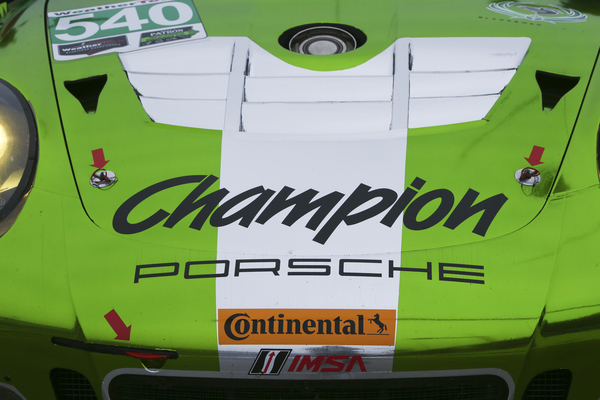 DAYTONA BEACH, Florida (January 28, 2015) – With Black Swan Racing not only returning to the IMSA WeatherTech SportsCar Championship but also Porsche in 2016, the team is happy to announce yet another partnership in advance of this weekend's season-opening Rolex 24 at Daytona, Champion Porsche. A revered brand both within the motorsport community as well as Florida's most recognized Porsche dealership, it's a fitting pair headed in to Saturday's twice-around-the-clock classic.

"It's great to have Champion on board with us for Daytona," stated Black Swan Racing team principal and co-driver Tim Pappas. "When it comes to racing at Daytona, they're a great partner and brand to have join us, and I know we'll represent them well. Champion has such a rich history in sportscar racing, we're proud to be a part of that, and come Saturday we plan to add to their success. We had a great test at the Roar, and between the team's preparation and an amazing driver line-up, we're as ready as we can be."

After three years in another series with different manufacturers, Black Swan is proud to return to the current iteration of IMSA competition in the No. 540 Black Swan Racing Porsche 911 GT3 R. The team enjoyed successive championships in 2010 and 2011 in the former American Le Mans Series, including victories at the Mobil 1 Twelve Hours of Sebring and Petit Le Mans, and look to repeat the same feat in their return to IMSA and Porsche this year.

Pompano Beach, Florida-based Champion Porsche, meanwhile, has enjoyed its own history within the sport. The Porsche and Audi dealership actually started its own racing team in 2001, Champion Racing, under the tutelage of company principal Dave Maraj who lead his organization to nine consecutive American Le Mans Series championships as well as victory at the 24 Hours of Le Mans.

Off the track, Champion remains "the" destination for all things Porsche. Founded in 1987, the team is currently the number one Porsche dealer in all of the U.S., having been the largest volume Porsche dealer for 29 years. From Porsche Driver's Selection gear to Porsche equipment accessories, Champion's boutique carries a large selection of items on hand for all your shopping needs. Whether a classic or modern Porsche, the knowledgeable staff in their parts department will be able to help find what you need. Champion's parts department also carries one of the largest inventory of factory Porsche parts around, as well as the largest inventory of Porsche approved tires in the entire southeast region.
With the Rolex 24 at Daytona just days away, the entire Black Swan Racing team is as prepared as they can be, with one of the strongest lineups in the GT Daytona (GTD) class field. With two former winners in Porsche factory driver Patrick Long as well as Andy Pilgrim, as well as Tim Pappas and endurance racing standout Nicky Catsburg, the team proved instant pace in testing, and looks to add to their rich history this weekend.

Broadcast coverage begins at 2PM this Saturday, January 30, full details listed below.
2:00 PM ET, 1/30/2016, FOX Sports
4:00 PM ET, 1/30/2016, FOX Sports
10:00 PM ET, 1/31/2016, IMSA
7:00 AM ET, 1/31/2016, FOX Sports 1
10:30 AM ET, 1/31/2016, FOX Sports 2
1:00 PM ET, 1/31/2016, FOX Sports 1