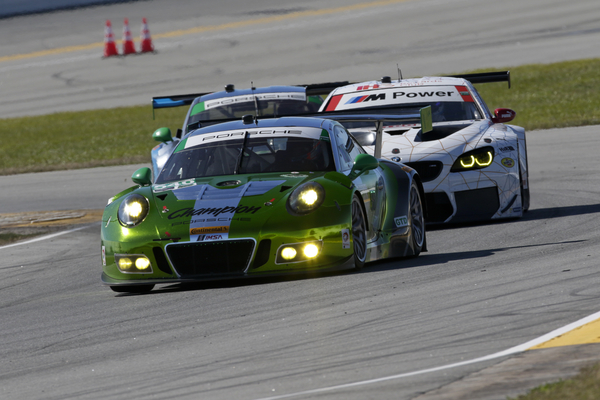 BOSTON, Mass. (March 14, 2016)- Following an incredible fight to the finish during the Rolex 24 at Daytona just seven weeks ago, Black Swan Racing will head this weekend's 64th Annual Mobil 1 Twelve Hours of Sebring in pursuit of their second victory at the famed event.
"There is no event in the world like Sebring," stated Black Swan Racing team owner and co-driver Tim Pappas. "We were lucky enough to win it in 2011, but the level of competition is incredibly high this year, and we're well aware of the challenge ahead. I think we proved our strength as a team at Daytona this year, had we had just one more lap it would have been a completely different result, and we're bringing that momentum with us. The team has been hard at work in testing and preparation, and we're as ready as ever."
Serving as the second round of both the IMSA WeatherTech SportsCar Championship as well as Tequila Patrón North American Endurance Championship, the team heads in to the event as a return of sorts, having been out of IMSA competition for three years before bringing the No. 540 Porsche 911 GT3 R to Daytona in January. Showing the strength of the former two-time series champions, the team proved to be the strongest Porsche during the Rolex 24, finishing second just three seconds away from victory.
Having competed for the last four years in a variety of machines, the Black Swan team will return to Sebring with Porsche, the marque with which they took their 2011 victory. Serving as an airbase during WWII, the long and bumpy surface makes for one of the most unique visits on the calendar, with many features of the 3.74-mile course remaining unchanged in the track's 64-year history. With the bumps and surface changes creating what is arguably the toughest challenge on both driver and equipment throughout the season, the team will draw on the vast experience of both drivers and crew to bolster their chances.
Opting to keep the team consistent, the Daytona lineup of Pappas and full-season co-driver Nicky Catsburg will once again be joined by Porsche factory driver Patrick Long as well as sportscar veteran Andy Pilgrim.
Catsburg, a winner of multiple endurance events around the world, will actually be making his debut at the famed 12 Hour. No stranger to the requirements of endurance racing, the Dutchman looks forward to the challenge.
"I'm very excited to finally race in Sebring," stated Catsburg. "The event has so much history, and so many great drivers and teams have won there, that it's definitely an event we all want to win. Everyone at Black Swan Racing did an amazing job at Daytona, and there's no reason to think we can't have a similar result at Sebring. We have an incredibly strong driver lineup, but obviously it's a very competitive field, so who knows what can happen. I'm very confident we can all show well."
Long, a former winner of the event, joins the team fully aware of the challenges ahead.
"Sebring is one of those places that you really have to respect," stated the American. "I've been fortunate enough to win here, but I've also seen how easy it is for things to bite you, and we're lucky that we have an extraordinary crew and group of drivers who have all been here before and know what to expect. It should be an interesting race and a lot of strategy at play, with a field this strong it's going to be a tough race all the way to the end. I'm looking forward to it, and thankful to everyone at the team for the opportunity."
For Pilgrim, yet another former Sebring winner, adding another victory at the "12 Hour" would be a special moment for the sportscar veteran.
"It's great to be back at Sebring. Having won the 12 Hour before, I am looking forward to pushing hard for another win," stated Pilgrim. "This race is a physical all around. It's tough on the drivers as well as on the car. A lot of race tracks get updates and manicures every year to keep up appearances, but not Sebring. Coming back here is like coming back to a craggy old mountain, you love it or hate it for what it is, but it doesn't change and you'd better be ready. The GTD class is very competitive and deep, nobody in Black Swan is taking that lightly, we will be prepared come Saturday. Our result at Daytona is a good testament to our team's ability, we look to improve on that at Sebring."
Official practice for the event takes place this Thursday, March 17, with the race beginning at 10:40AM on Saturday, March 19 and ending 12 hours later. Broadcast coverage within the US will run as follows:
10:30AM ET: Fox Sports 1
12:00PM ET: Fox Sports 2
7:00PM ET: IMSA.com
10:00PM ET: Fox Sports 2