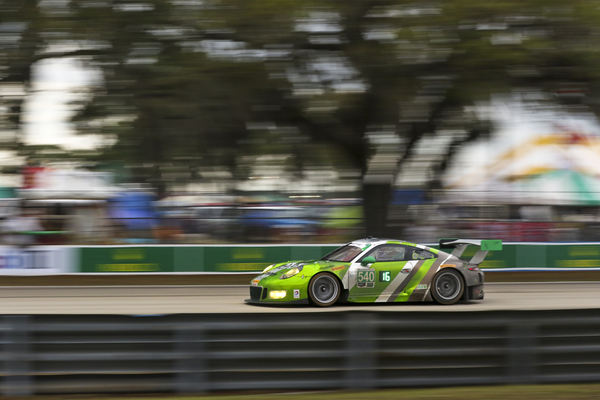 MONTEREY, Calif. (April 27, 2016)- With the IMSA WeatherTech SportsCar Championship's two longest events in the record books for 2016, the team at Black Swan Racing will head in to this weekend's Continental Tire Monterey Grand Prix at Mazda Raceway Laguna Seca with a firm focus on championship form as the series moves in to the busy "sprint" season.
"Opening the season with such a strong run at Daytona was proof of our team's potential, but we're now headed in to a critical part of the year," stated Black Swan Racing team owner and co-driver Tim Pappas. "The sprint races are where the true speed of each team shines through, and with such a competitive field, we can't afford to make any mistakes. Having been out of this type of format for a few years, the last race Sebring brought out a few areas we need to work on, but we've moved on as a team and are completely focused on this weekend. Mazda Raceway Laguna Seca is a track unlike any other, and theoretically it should be a good course for our car. We'll of course have to see how it all shakes out when we hit the track on Friday, but we're all excited."
Following a difficult last race at the Mobil 1 Twelve Hours of Sebring, the crew of the No. 540 Black Swan Racing Porsche 911 GT3 R will approach the weekend with a renewed focus having learned from a series of procedural errors. With the rolling hills of the 2.2-mile, 11-turn course favoring a smooth driving style and mid-corner speed, the team's extensive experience at the historic California course should prove strong headed in to the first practice. No stranger to IMSA competition at the venue, the team has two consecutive podiums in the former American Le Mans Series, including a victory in 2010.
For co-driver Nicky Catsburg, a debut appearance at one of North America's most scenic courses is a welcome opportunity. Having never been to the venue before, the Dutchman has been putting in extensive simulator time to get acclimated.
"Mazda Raceway Laguna Seca is a course that every driver wants to visit once in their career," stated Catsburg. "I've never been to the circuit, but we've done a lot to study the track and make sure I have a complete understanding heading in to the weekend, I don't think it will be a problem at all. I'm very excited to finally see what this track is like to drive in person, and as the first sprint race of the year it should be quite an event."
With the series' four classes divided in to two races, Black Swan Racing's GTD class will be combined with the Prototype Challenge (PC) category to close out the weekend's events on Sunday, May 1. Live coverage will be broadcast on Fox Sports 2 at 3:30PM PT for the two-hour race.