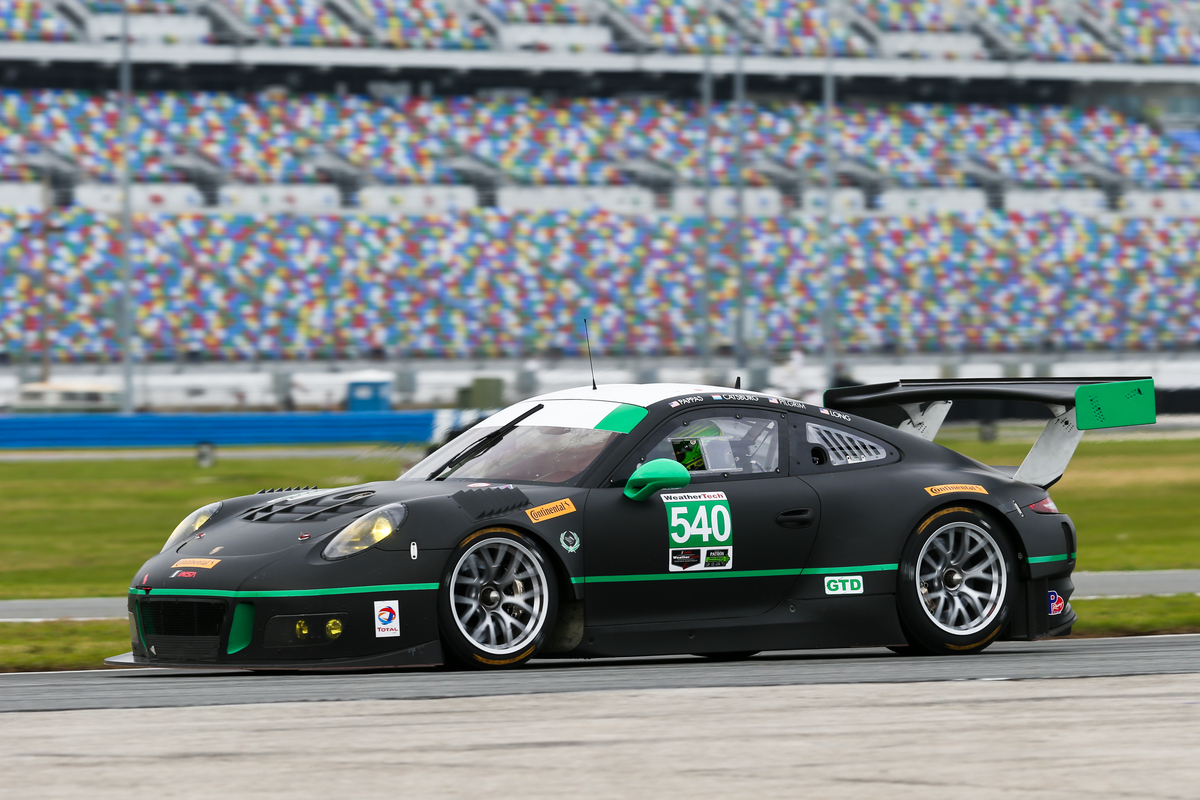 DAYTONA BEACH, Florida (January 11, 2016) - With the No. 540 Black Swan Racing Porsche 911 GT3 R marking its official return to IMSA WeatherTech SportsCar Championship competition during the annual ROAR Before the Rolex 24 at Daytona, the two-time American LeMans Series championship-winning team proved that it's as formidable as ever. Taking part in the annual pre-season test before the opening event, The Rolex 24 at Daytona, the team was able to consistently set times among the top GT Daytona (GTD) category competitors, proving their stature within an incredibly tight field.
Setting a time of 1:48.281, which was within a half-second of the weekend's top time and and with five different manufacturers all setting similar lap times, the team ran with virtually no hiccups, rotating drivers Tim Pappas, Nicky Catsburg, Patrick Long and Andy Pilgrim through six different sessions. With all four drivers setting impressive lap times, the focus turned to both setup and reliability which was met with zero difficulty, sending a strong message about their race prospects.
"The team has been working very hard to get ready for this month, and I'm glad to see it beginning to pay off," stated team owner and co-driver Tim Pappas. "Any time you come to this event with a new car you're never sure of what to expect, but our weekend went more or less according to plan, so we're all confident heading in to the race. Nicky, Patrick and Andy were all as strong as you'd expect, there's not a weak link on this team. The guys have been working incredibly hard during the winter, and headed to the 24 we're as prepared as we can be."
For teammate Nicky Catsburg, a similar feeling is shared.
"This was the first time the entire team was able to run together, and it was incredibly smooth. This is a great team and a great driver lineup, and I think we quietly proved that we will be a contender in a couple weeks. This year's Daytona 24 should be a very special event, and I couldn't be happier to be a part of it."
For Patrick Long, pursuing his second victory at the famed race, the signs of a good event were present during the test.
"You always look for a calm, organized approach headed in to Daytona, and that was very present within the team. There is a lot of experienced and known people under the tent here, and you can really see that with how orderly the weekend went. The new Porsche 911 GT3 R is an incredibly strong car, and between that and our lineup this team should be a true contender for the 24."
Finally, pursuing his fourth win at the event, sportscar veteran Andy Pilgrim's return to Porsche machinery proved as smooth as anticipated.
"This should be an excellent car for Daytona, and the team did a great job running us through the weekend," stated the 2004 overall winner. "This is a new car for everyone, but you wouldn't have known it the way we ran through the program, I have to give all credit to the team and the preparation heading in. I really enjoyed the new Porsche, and I think headed in to the 24, we have as good of a shot as anybody. It's an incredibly tight field, so who knows how any of this will shake out, but this team will be as prepared as can be."
With only a couple weeks between the test and the race, the entire WeatherTech championship is hard at work getting both car and team ready for the upcoming Rolex 24 at Daytona. As both the season-opener and the biggest race of the year, there is a lot at stake for everyone on the team, who will take to competition on Saturday, January 30. A full team preview, including television details, will be announced shortly.